Regular practice hours (3 times a week)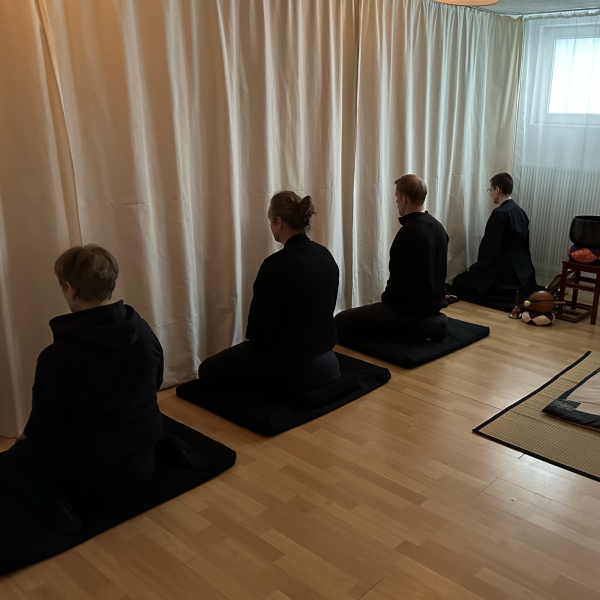 Mondays and Thursdays: Morning Practice
Our morning practice on Mondays and Thursdays consists of two periods of zazen, with kinhin (and the possibility to join in) inbetween, followed by sutra chanting (Heart Sutra, Daihi Shin Darani, Enmei Jukko Kannon Gyo).
6:30 Zazen
7:10 Kinhin (possibility to join in)
7:20 Zazen
7:50 Morning Service
Please register beforehand: info@daijihi.org or +43 650 3554835
Fridays: Evening Practice
18:00-19:00 Qigong
19:00-19:40 Zazen
19:50-20:30 Text study and discussion
Please register beforehand: info@daijihi.org or +43 650 3554835.
Location
Dr.-Schober-Str. 73, 1130 Wien
We meet in front of the zendo, right at the entrance downstairs (brown door to the right of "Plantago" company label); please knock if door is closed.
Public Transport

Bus 56 A to Atzgersdorf, bus stop "Glawatschweg"

On request, we can come and pick you up at Speising (60, 62, 56a, 56b) or Hietzing (U4), please give us a call: +43 650 3554835.

Is there anything I have to bring/know?
Our practice is open to anyone, beginners included. If you don't have any zazen experience yet, we kindly ask you to come a few minutes earlier so we can assist you.
We meet roughly 15 minutes in advance, no special clothing required, but it should be comfortable and dark colors are appreciated.
Our practice dialogue also does not require any prior knowledge.
ZEN is an open, interdenominational tradition that welcomes anyone who is interested. You neither have to declare any faith nor convert to anything to practice Zen, no alterations to your personal beliefs or religious affiliations need be made. There is no dogma and there are no fixed beliefs. We only ask you to follow the rules that are in effect during our shared practice.